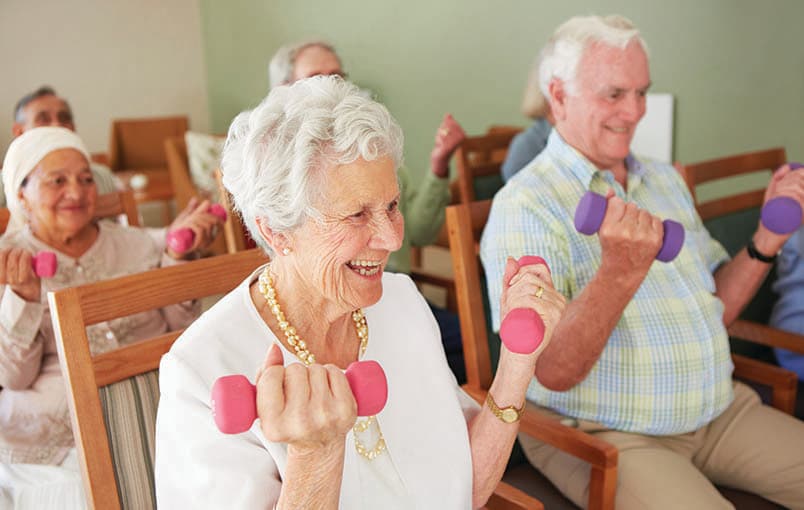 COMMUNITY NEWS & EVENTS
Valencia Terrace Wellness Calendar
Here at Valencia Terrace, we strive to keep residents healthy though our Art of Living Wellsmculture. We believe that wellness comes from a combination of human experiences including the emotional, intellectual, physical, social, spiritual and vocational elements. However, we also recognize that each resident is going to have a different level of health. Therefore, we offer a variety of lifestyle options and flexible programs which help to keep all residents as active as they wish to be. It's all up to the individual as to how active their day is. From balance & strength, art therapy class and massage therapy to social hour, sing-a-longs and movies, there will never be a shortage of things to do. There are also programs like Bible study to reach the spiritual health of residents.
Upcoming Events
National Assisted Living Week®:  Sunday, September 10 - Saturday, September 16, 2017
This year's National Assisted Living Week® theme is "Family is Forever."  At Valencia Terrace, we are one big family. Just spend a little time with us and you'll see first-hand how our associates and residents are like family. From housekeeping to direct caregivers, our associates get to know the residents intimately, and so inevitably, special bonds form. Give us a call to see what activities we have planned to thank our associates and volunteers, but especially our residents for entrusting in us and becoming part of our family.
For more information, please call 951.356.6004.
View our map and directions to Valencia Terrace Corona, CA.
Active Aging Week: Sunday, September 24 - Saturday, September 30
Valencia Terrace will be holding special event(s) for our residents and their families during the last week of September as part of Active Aging Week®.  This is an annual health promotion event for older adults organized by International Council on Active Aging®. The goal is to provide the means to experience activities and exercise in a safe, friendly and fun atmosphere. This year we invite you to participate and ignite your passion!
Please call 951.356.6004 to find out what activities we have planned this month!