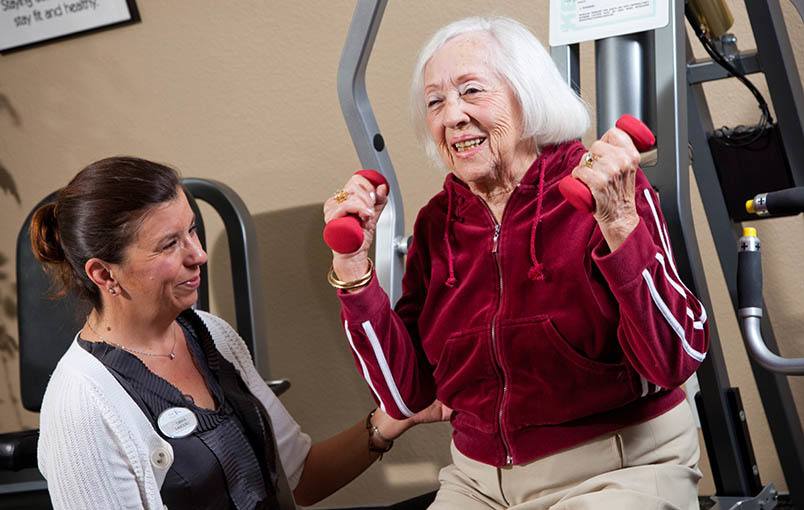 COMMUNITY NEWS & EVENTS
Park Plaza Wellness Calendar
Park Plaza offers our residents the perfect environment in which to relax as well as stay active. We believe that focusing on the six dimensions of wellness (including emotional, intellectual, physical, social, spiritual, and vocational health) is a part of what keeps residents joyous and healthy. This is why at our senior living community, we offer our residents limitless programs including everything from garden club to educational lectures — from cardio balloon fitness to bingo — from bowling to Tai chi — from chair aerobics to movie night — and so much more! It's completely up to you how you choose to enjoy each day.
The courtyard poses as the lovely entryway to our heated swimming pool where residents can keep their bodies healthy and mobile. You can start your morning with a brisk walk, attend a balance class, or take our Park Plaza transportation to nearby historic downtown Orange. Your opportunities are only limited by how you choose to spend your time.
As you participate in our award-winning programs, you know your choices are designed to help you maintain an active lifestyle doing things you love, learning new things, staying physically active, enjoying the company of friends and family, discovering new passions, and loving life.
Upcoming Events
2018 National Assisted Living Week® "Capture the Moment" | Sunday, September 9 - Saturday, September 15
This year's theme is "Capture the Moment".  We are hosting events this week that push back against the perception that older adults in assisted living no longer have a purpose or are irrelevant. At Park Plaza, we strive to promote our resident's self-worth by celebrating their individuality and offering life-enriching social activities. Give us a call at 714.453.4878 to see how and when you can join us in the celebration!