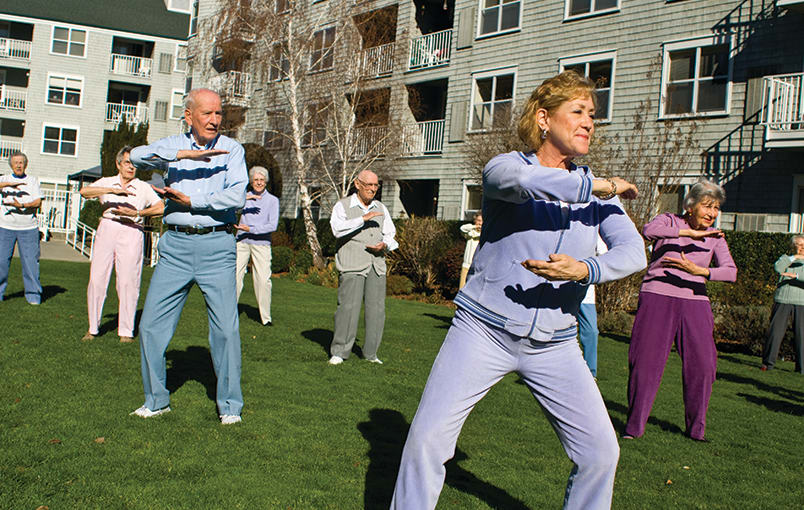 COMMUNITY NEWS & EVENTS
Wellness Calendar
At Byron Park, residents can always find something fun and enriching to do. From a game of bridge to reading in the library, the community's activities meet everyone's interests. There's also a recreation room that houses our award-winning fitness classes and a well-manicured outdoor area that's the perfect place for a relaxing stroll.
Amenities abound at Byron Park, including a heated swimming pool and Jacuzzi, a private living room, a cozy library, onsite beauty parlor, all-day dining, a new fitness room with state-of-the art equipment specially designed for seniors, an ice cream parlor/bistro, and Byron Park's own in-house cable television station that keeps you informed with the day's events, menus, upcoming attractions, and a daily movie.
From exercise classes for every fitness level, to art lectures, bridge games, musical entertainment, book clubs and day trips to museums, plays, casinos and sporting events to name just a few, there is something for everyone. With so much to choose from, you might have a hard time deciding whether you want to relax on our sunny porch or take a dip in the pool. Not to worry - there's always another day to enjoy everything listed on our wellness calendar. Take a minute to browse what could be the start of a whole new enhanced lifestyle.
Upcoming Events
National Nutrition Month - March
"Go Further with Food" is the theme this year and its importance is timely for many reasons. National Nutrition Month® encourages us to achieve and make informed food choices and develop sound eating and physical activity habits to live a healthier lifestyle. Give us a call at 925.954.9988 for more information on related events and activities at our community.
International Women's Day Tea: Thursday, March 8, 2018 | 2:00 pm - 4:00 pm
Join us at Byron Park for International Women's Day where we will be hosting a women's tea with special guest LaVon Rose. LaVon will be sharing inspiring stories about female leaders and women who have  encouraged her throughout her life. Hear how all generations have encouraged women to be strong and successful and how we can support future generations. LaVon's light-hearted discussion will leave you feeling proud and even reminiscent of fellow empowered females in your own life. Come celebrate women of all ages and learn how we can be an inspiration to other women in our own lives. We hope you can join us!
To RSVP, please call 925.954.9988 by March 2.