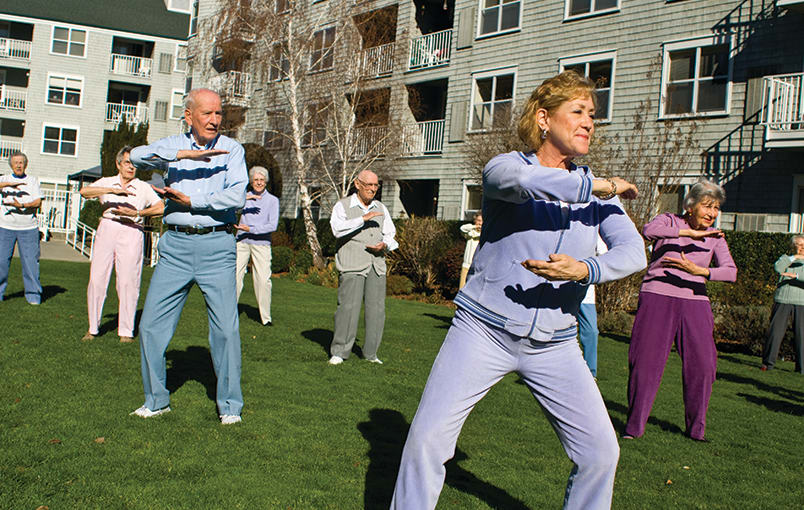 COMMUNITY NEWS & EVENTS
Wellness Calendar
At Byron Park, residents can always find something fun and enriching to do. From a game of bridge to reading in the library, the community's activities meet everyone's interests. There's also a recreation room that houses our award-winning fitness classes and a well-manicured outdoor area that's the perfect place for a relaxing stroll.
Amenities abound at Byron Park, including a heated swimming pool and Jacuzzi, a private living room, a cozy library, onsite beauty parlor, all-day dining, a new fitness room with state-of-the art equipment specially designed for seniors, an ice cream parlor/bistro, and Byron Park's own in-house cable television station that keeps you informed with the day's events, menus, upcoming attractions, and a daily movie.
From exercise classes for every fitness level, to art lectures, bridge games, musical entertainment, book clubs and day trips to museums, plays, casinos and sporting events to name just a few, there is something for everyone. With so much to choose from, you might have a hard time deciding whether you want to relax on our sunny porch or take a dip in the pool. Not to worry - there's always another day to enjoy everything listed on our wellness calendar. Take a minute to browse what could be the start of a whole new enhanced lifestyle.
Upcoming Events
Retirement Expert Lecture Series
We invite you to join us at Byron Park for our upcoming Become Your Own Retirement Expert Series!  Attend any of these events and receive a FREE lunch certificate for two!
Estate Planning with Glenn Bittner
Wednesday, November 15, 2017 | 5:30 pm - 7:00 pm
Glenn Bittner is highly committed to providing his clients with the most comprehensive estate planning services possible and has an innovative approach to helping families plan for the future. Vanessa Paez from Byron Park will also be presenting on the different types of senior living and the costs associated.
Eldercare Services with Linda Fodrini-Johnson
Wednesday, December 6, 2017 | 5:30 pm - 7:00 pm
Worried about The Elephant in the Room? Linda Fodrini-Johnson, owner and leader of Eldercare Services will give you a framework to have challenging conversations with those who might have to make decisions for you or for you to have with your loved ones to relate your values and wishes. Some of the topics that individuals struggle to talk about could concern health directives, re-marriage, blended families, moving and even end of life wishes.
Sell Your Home the Easy Way with Realtor Clay Allen
Wednesday, January 10, 2018 | 5:30 pm - 7:00 pm
Clay will be the first to tell you that when selling your home, you don't have to have it all figured out, that's where an experience Realtor® comes in. Clay has been in the Bay area for over 30 years and will give you tips to make selling your home much easier. Get top dollar in the shortest amount of time and maximize your equity. Bring your questions for a Q&A session with Clay after his lecture.
For more information, please call 925.954.9988.