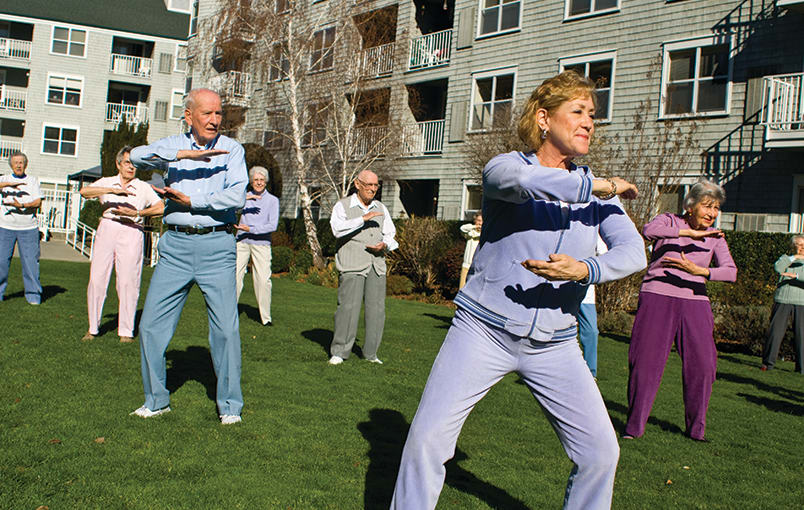 COMMUNITY NEWS & EVENTS
Wellness Calendar
At Byron Park, residents can always find something fun and enriching to do. From a game of bridge to reading in the library, the community's activities meet everyone's interests. There's also a recreation room that houses our award-winning fitness classes and a well-manicured outdoor area that's the perfect place for a relaxing stroll.
Amenities abound at Byron Park, including a heated swimming pool and Jacuzzi, a private living room, a cozy library, onsite beauty parlor, all-day dining, a new fitness room with state-of-the art equipment specially designed for seniors, an ice cream parlor/bistro, and Byron Park's own in-house cable television station that keeps you informed with the day's events, menus, upcoming attractions, and a daily movie.
From exercise classes for every fitness level, to art lectures, bridge games, musical entertainment, book clubs and day trips to museums, plays, casinos and sporting events to name just a few, there is something for everyone. With so much to choose from, you might have a hard time deciding whether you want to relax on our sunny porch or take a dip in the pool. Not to worry - there's always another day to enjoy everything listed on our wellness calendar. Take a minute to browse what could be the start of a whole new enhanced lifestyle.
Upcoming Events
National Assisted Living Week®:  Sunday, September 10 - Saturday, September 16, 2017
This year's National Assisted Living Week® theme is "Family is Forever."  At Byron Park, we are one big family. Just spend a little time with us and you'll see first-hand how our associates and residents are like family. From housekeeping to direct caregivers, our associates get to know the residents intimately, and so inevitably, special bonds form. Give us a call to see what activities we have planned to thank our associates and volunteers, but especially our residents for entrusting in us and becoming part of our family.
For more information, please call 925.954.9988.
Active Aging Week: Sunday, September 24 - Saturday, September 30
Bryon Park will be holding special event(s) for our residents and their families during the last week of September as part of Active Aging Week®.  This is an annual health promotion event for older adults organized by International Council on Active Aging®. The goal is to provide the means to experience activities and exercise in a safe, friendly and fun atmosphere. This year we invite you to participate and ignite your passion!
Please call 925.9988 to find out what activities we have planned this month!