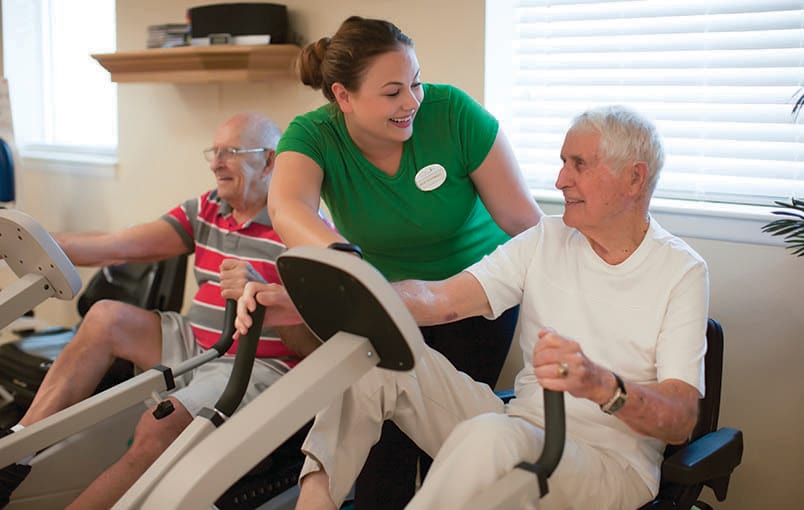 COMMUNITY NEWS & EVENTS
The Fountains of Melbourne Wellness Calendar
We are proud to offer our award-winning "The Art of Living Well℠" program — a holistic approach to mind, body, and spirit whole-person health.
We offer the latest advancements in wellness — from our Posit Science Brain Gym for mental fitness to our state-of-the-art Fitness Center with certified senior trainers. We have a gorgeous outdoor heated swimming pool for year-round enjoyment. You can also nourish your mind by participating in our continuing education classes.
This wellness culture is what makes The Fountains phenomenal and contributes to the enriched mind, body, and spirit of our residents — creating a senior living experience that is a cut above the rest.
We offer a wide selection of daily programs that will engage your mind, body, and spirit. From wine tasting to live entertainment and yoga classes, your days will be filled with fun and enrichment.
Our Monthly Wellness Calendar | Our Monthly Wellness Newsletter
Upcoming Events
Active Aging Week | Sunday, September 23 - Saturday, September 29
The Fountains will hold a special events inspiring wellness for older adults and their families during the last week of September as part of Active Aging Week®.  
Active Aging Week is the annual health promotion event for older adults organized by International Council on Active Aging®, The goal of Active Aging Week is to give as many older adults as possible the means to experience wellness activities in a safe, friendly and fun atmosphere.
The Fountains supports wellness for older adults and is inviting you to participate!  Please join us for any or all of the following activities. 
Monday 9/24 Physical Wellness
11:00am - HUR SmartBalance Demo
2:00pm - Aerial America Travel Series "Trailblazers"
Tuesday 9/25 Intellectual Wellness
10:00am - Dr. Balaji presents a lecture on "High Cholesterol"
1:00pm - Learning Lecture on "Philosophy of Ethics" with Heath O'Brien
Wednesday 9/26 Emotional Wellness
1:30pm - "Nooks Cooks Demo" cookies by Chris Tice
3:00pm - The Emotions of Essential Oils to Lift Your Mood
Thursday 9/27 Vocational Wellness
10:00am - The History of the Supreme Court Class
2:00pm - Renaissance Painting Party by the Pool
Friday 9/28 Spiritual Wellness
11:00am - Hymnal Singing
3:00pm - Drumming Circle
For more information and to RSVP to these fun events, please call us at 321.473.9474.