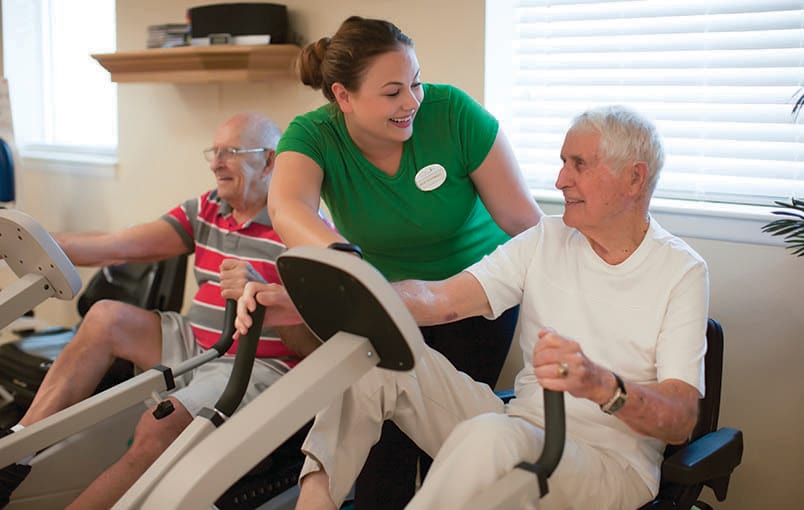 COMMUNITY NEWS & EVENTS
The Fountains of Melbourne Wellness Calendar
We are proud to offer our award-winning "The Art of Living Well℠" program — a holistic approach to mind, body, and spirit whole-person health.
We offer the latest advancements in wellness — from our Posit Science Brain Gym for mental fitness to our state-of-the-art Fitness Center with certified senior trainers. We have a gorgeous outdoor heated swimming pool for year-round enjoyment. You can also nourish your mind by participating in our continuing education classes.
This wellness culture is what makes The Fountains phenomenal and contributes to the enriched mind, body, and spirit of our residents — creating a senior living experience that is a cut above the rest.
We offer a wide selection of daily programs that will engage your mind, body, and spirit. From wine tasting to live entertainment and yoga classes, your days will be filled with fun and enrichment.
Our Monthly Wellness Calendar | Our Monthly Wellness Newsletter
Upcoming Events
National Senior Health & Fitness Day: Wednesday, May 29 | 8:00 am - 8:00 pm
Live and thrive with exercise! Come on down to The Fountains as we celebrate the 26th annual National Senior Health & Fitness Day. We have a full day of fun activities for you to participate in and ending the day with live entertainment! We hope you can join us.
8:00 HUR Balance Demo
8:30 to 11:30 Health and Wellness Fair, Door Prizes and Giveaways
9:00 Yoga Nidra Class with Danielle FS
10:00 Florida Licensing on Wheels
11:00 Ladies Group  "Dear Abby"
1:00 Craft Class  "Alcohol Ink" 
3:00 Arthritis and Meditation Class
3:00 Guest Speakers Melanie and Chris Presentation on CBD oil TC
4:00 Happy Hour
7:00 Live Music with Chuck Gillespie "The 1950's"
Call 321.473.9474 to RSVP by May 24 or for more information