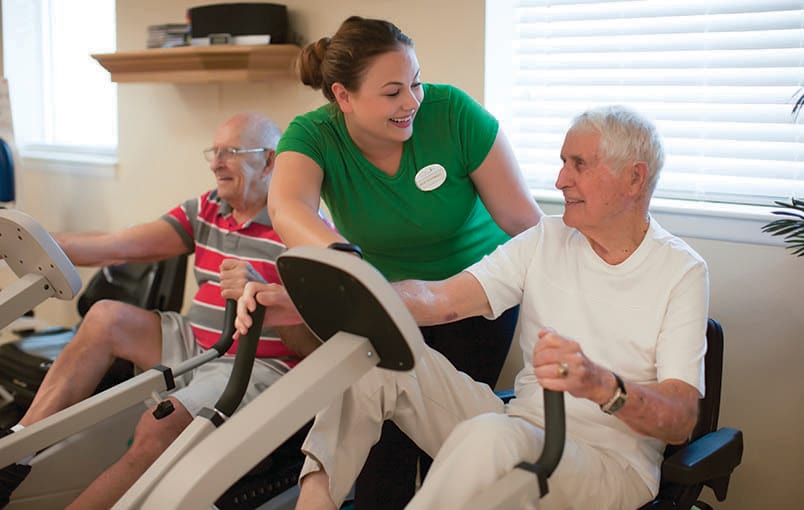 COMMUNITY NEWS & EVENTS
The Fountains of Melbourne Wellness Calendar
We are proud to offer our award-winning "The Art of Living Well℠" program — a holistic approach to mind, body, and spirit whole-person health.
We offer the latest advancements in wellness — from our Posit Science Brain Gym for mental fitness to our state-of-the-art Fitness Center with certified senior trainers. We have a gorgeous outdoor heated swimming pool for year-round enjoyment. You can also nourish your mind by participating in our continuing education classes.
This wellness culture is what makes The Fountains phenomenal and contributes to the enriched mind, body, and spirit of our residents — creating a senior living experience that is a cut above the rest.
We offer a wide selection of daily programs that will engage your mind, body, and spirit. From wine tasting to live entertainment and yoga classes, your days will be filled with fun and enrichment.
Our Monthly Wellness Calendar | Our Monthly Wellness Newsletter
Upcoming Events
Holistic Wellness Series:  See dates below.  Each event begins at 10 am.
We invite you to join us at The Fountains of Melbourne for our upcoming Holistic Health and Wellness Series hosted by various holistic practice guests who will discuss integrative wellness of mind, body, emotions and spirit. While you're here, don't forget to enter our raffle for a chance to win great prizes. As a token of our appreciation, you'll also receive a free gift! So take charge of your personal wellness and let us help you on your path.
Nidra Yoga with Danielle Matthews:  Wednesday, August 30
We kick off our series with Danielle Matthews, Certified Yoga Nidra instructor who will guide you on how to use your power of intention to break the cycles of stress and patterns of behavior that are limiting you from achieving your fullest potential.
Sara Stava, Certified Massage Therapist and Reflexologist:  Wednesday, September 6
Sara Stava, Certified Massage Therapist and Reflexologist for a session on massage and reflexology which is a focused pressure technique believed to stimulate nerve function, increase energy, boost circulation, eliminate toxins and much more.
The Fountains' Annual Vision Fair with The Federation of the Blind:  Thursday, September 14
Our annual Vision Fair in partnership with The Federation of the Blind will feature over 25 vendors to educate on those with vision issues on technology and devices as well as services to help them in life.
Speaker TBD:  Wednesday, September 20
We will conclude with a final speaker to be announced at a later date.
We hope you will join us for one, or all events! To RSVP, please call 321.473.9474.
National Assisted Living Week®:  Sunday, September 10 - Saturday, September 16, 2017
This year's National Assisted Living Week® theme is "Family is Forever."  At The Fountains, we are one big family. Just spend a little time with us and you'll see first-hand how our associates and residents are like family. From housekeeping to direct caregivers, our associates get to know the residents intimately, and so inevitably, special bonds form. Give us a call to see what activities we have planned to thank our associates and volunteers, but especially our residents for entrusting in us and becoming part of our family.
For more information, please call 321.473.9474.
Active Aging Week: Sunday, September 24 - Saturday, September 30
The Fountains will be holding special event(s) for our residents and their families during the last week of September as part of Active Aging Week®.  This is an annual health promotion event for older adults organized by International Council on Active Aging®. The goal is to provide the means to experience activities and exercise in a safe, friendly and fun atmosphere. This year we invite you to participate and ignite your passion!
Please call 321.473.9474 to find out what activities we have planned this month!