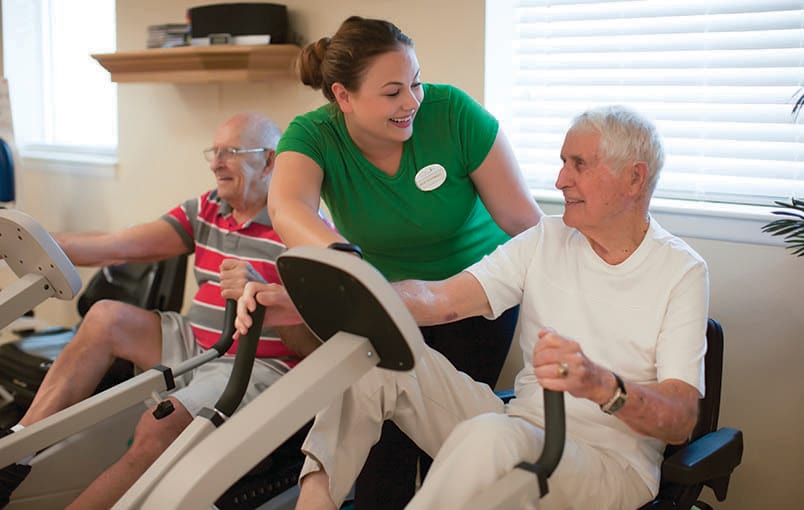 COMMUNITY NEWS & EVENTS
The Fountains of Melbourne Wellness Calendar
We are proud to offer our award-winning "The Art of Living Well℠" program — a holistic approach to mind, body, and spirit whole-person health.
We offer the latest advancements in wellness — from our Posit Science Brain Gym for mental fitness to our state-of-the-art Fitness Center with certified senior trainers. We have a gorgeous outdoor heated swimming pool for year-round enjoyment. You can also nourish your mind by participating in our continuing education classes.
This wellness culture is what makes The Fountains phenomenal and contributes to the enriched mind, body, and spirit of our residents — creating a senior living experience that is a cut above the rest.
We offer a wide selection of daily programs that will engage your mind, body, and spirit. From wine tasting to live entertainment and yoga classes, your days will be filled with fun and enrichment.
Our Monthly Wellness Calendar | Our Monthly Wellness Newsletter
Upcoming Events
AARP Driver Safety Course: Friday, January 18 | 9:00 am - 4:00 pm
Join us at The Fountains of Melbourne for an informative Driver Safety course brought to you by AARP. Cars have changed, so have traffic rules, driving conditions and the roads you travel every day. Even the most experienced drivers can benefit from refreshing their driving skill and by taking a driver refresher course you'll learn the current rules of the road, defensive driving techniques and how to operate your vehicle more safely in today's increasingly challenging driving environment. Pre-registration is required and cost to join is $24 per person. Lunch will be provided. An AARPSM membership is not required. Brush up those skills and remain safe on the road.
You'll learn:
How to manage and accommodate common age-related changes in vision, hearing and reaction time
Research-based safety strategies that can reduce the likelihood of having a crash
Proper use of seat belts, air bags, antilock brakes and new technology
The effects of medications on driving
The importance of eliminating distractions, such as using a cellphone
Space is limited to the first 20 participants so hurry to reserve your spot! Please visit www.fbcmel.info to pre-register by January 11, 2019. After pre-registering, please call 321.473.9474 to confirm your RSVP.
Author Speaker Series
In keeping with our tradition of enhancing lives through exceptional cultural experiences, The Fountains of Melbourne is pleased to introduce our much anticipated Author Speaker Series. This exciting series will give you the opportunity to see, hear and meet four talented authors from different backgrounds and different genres. We kick off February with a mystery writer having served his formative years on the Miami-Dade police force, followed by an enchanting romance author with a love for the creative arts. We continue in March with the "Top Gun" experience presented by a Navy aerial combat instructor and author that played a direct behind-the-scenes role in the blockbuster movie with the same name. We conclude our series with an award-winning author that sees writing as a way to expose our erring human ways with grace. We hope you can join us for one, or all of these complimentary events.
Thursday, February 7, 10:00 am: Marshall Frank
Marshall Frank is a retired captain from the Metro-Dade Police Department in Miami, Florida, where he spent the majority of his thirty years investigating murders or commanding those who did. The author of fiction and non-fiction books, Marshall is often invited to speak at public events and civic organizations. In addition to writing articles, a blog and books, he is also a talented violinist entertaining at various venues with his pianist partner, Dr. Jay Barnhart. Marshall's published works include: Beyond the Call, Dire Straits, Call Me Mommy, The Latent, On My Father's Grave, The Upside to Murder, Frankly Speaking, From Violins to Violence, Militant Islam in America, Messages, and Criminal Injustice in America.

Thursday, February 21, 10:00 am: Kay Williamson
Kay Williamson, a former elementary teacher and resident of Satellite Beach, Florida, is published in various literary anthologies and magazines. Kay writes romance and mystery novels and is also a playwright, published songwriter, and watercolor artist. She's a member of Brevard Watercolor Society and The Art and Antique Gallery and Studio. Her novels include: Ghostly Whispers, Bridge to Nowhere, Listen to the Heart, Time After Time, Murder at the Starlight Pavilion, The Mysterious Woman on the Train, Incident at the Pink Beach House, Murder on Star Route One , Murder in the Mountains, and Murder at the Regional Hospital.

Thursday, March 7, 10:00 am: Dave Baranek
Dave Baranek was born and raised in Jacksonville, Florida where from a young age he set his sights on flying Navy jet fighters, attending Georgia Tech and participating in ROTC to qualify for officer training before entering the Navy in 1979. Without 20/20 eyesight he could not become a pilot, so he became a radar intercept officer, operating the weapons system in the Navy's F-14 Tomcat fighter. He was selected to become an aerial combat instructor at the Navy Fighter Weapons School, better known as Top Gun. While serving as an instructor in 1985, he had the experience of flying aerial sequences used in the film, "Top Gun," and worked with Paramount Studios as a dialogue adviser on the project. Dave enjoyed a successful 20-year career in the Navy, and his work has been published in numerous magazines. His books include: Topgun Days and Before Topgun Days.

Thursday, March 21, 10:00 am: Cindy Foley
Raised in the small town of Grapeville, New York, Cindy Foley got her motivation to write from her stay-at-home mom who wrote poetry and short stories for magazines, and weekly columns for the local  ewspaper. Her first novel, The Truth Lies... a Florida Saga, won the 2016 Space Coast Writers' Guild Don Argo Award for best in Florida Literature. The Truth Lies... a Florida Saga sheds light on a dark spot in our nation's past... and an awareness of how a simple accident can lead to unforgiving conflicts where perception is reality, and everyone's perception is based on their own experiences and desires. An extremely interesting look into how differing insight and opinion can cause potentially permanent damage, both physically and emotionally. Her other works include: The Adventures of Clawed, I Clawed-Book One: The Renewal, and I Clawed-Book Two: Dog Days.
We hope you will join us for one, or all events! To RSVP, please call 321.473.9474.