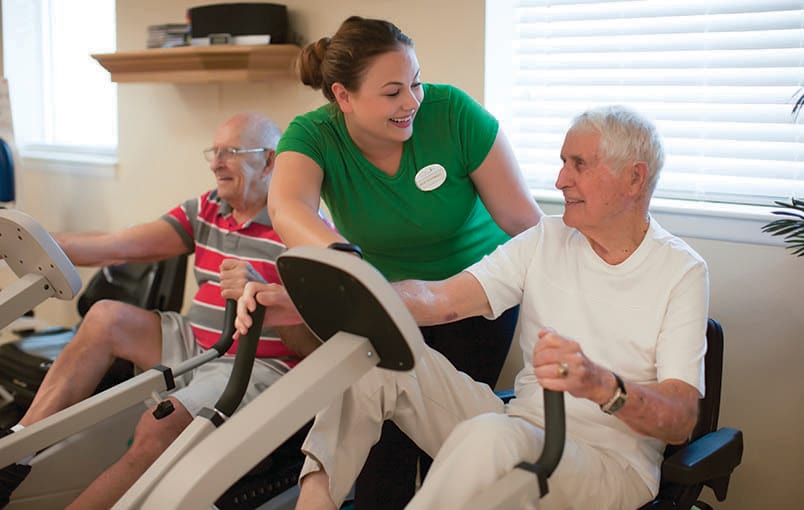 COMMUNITY NEWS & EVENTS
The Fountains of Melbourne Wellness Calendar
We are proud to offer our award-winning "The Art of Living Well℠" program — a holistic approach to mind, body, and spirit whole-person health.
We offer the latest advancements in wellness — from our Posit Science Brain Gym for mental fitness to our state-of-the-art Fitness Center with certified senior trainers. We have a gorgeous outdoor heated swimming pool for year-round enjoyment. You can also nourish your mind by participating in our continuing education classes.
This wellness culture is what makes The Fountains phenomenal and contributes to the enriched mind, body, and spirit of our residents — creating a senior living experience that is a cut above the rest.
We offer a wide selection of daily programs that will engage your mind, body, and spirit. From wine tasting to live entertainment and yoga classes, your days will be filled with fun and enrichment.
Our Monthly Wellness Calendar | Our Monthly Wellness Newsletter
Upcoming Events
National Assisted Living Week®: 
Sunday, September 8 - Saturday, September 14
We celebrate the countless ways in which Assisted Living caregivers nurture the whole resident and how your small, everyday interactions with residents can deliver a high quality, person-centered approach to care. We rejoice with residents who continue to seize the day and realize their dreams.
Call 321.473.9474 or visit the front desk for a schedule of upcoming events.
Summertime in Art History:  Friday, September 27 | 1:00 pm
Join us for a beautiful slide show presentation by Cynthia Peer. You will enjoy wonderful works of art from the era of Rococo. Beginning with the creators Watteau and Fragonard and up to the era of Impressionism with artists Mary Cassatt and Berthe Morisot. Learn the history behind these great artists and their beautiful and sunny works of art. Refreshments will be served.

To RSVP, call 321.473.9474 by September 25​
Active Aging Week: Tuesday, October 1 - Monday, October 7
Join us as we celebrate all parts of your health - physical, emotional and social, too!  We will be hosting classes and events throughout the week that focus on staying active. Check out our calendar and newsletter above to see how you can participate in these activities or call us at 321.473.9474 for more information.
5th Annual Car & Bike Show: Saturday, October 12 | 9:00 am - 2:00 pm
Please join us for a fun day. Sponsored with support from Hometown News of Brevard, we are celebrating White Cane Month and changing what it means to be blind in Brevard County, Florida. Music will be provided by DJ John Pappademetriou. There will be door prizes and food and ice cream for purchase. Please come and support a worthy cause!
For more information, call 321.473.9474.