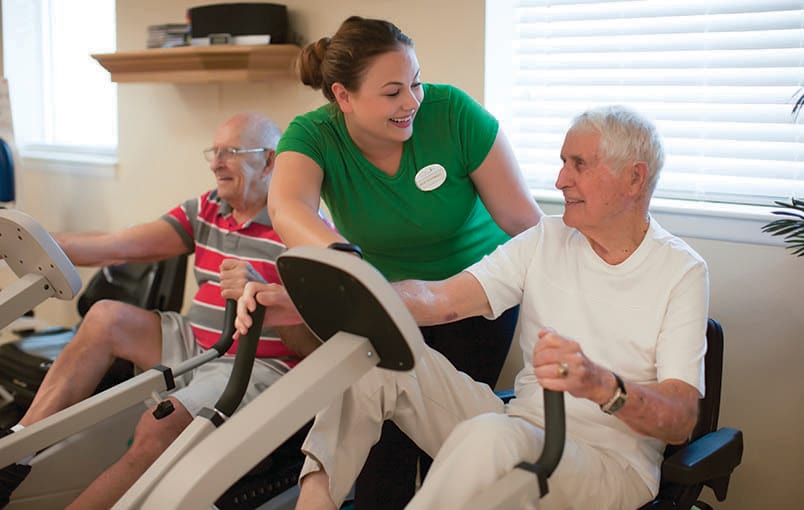 COMMUNITY NEWS & EVENTS
The Fountains of Melbourne Wellness Calendar
We are proud to offer our award-winning "The Art of Living Well℠" program — a holistic approach to mind, body, and spirit whole-person health.
We offer the latest advancements in wellness — from our Posit Science Brain Gym for mental fitness to our state-of-the-art Fitness Center with certified senior trainers. We have a gorgeous outdoor heated swimming pool for year-round enjoyment. You can also nourish your mind by participating in our continuing education classes.
This wellness culture is what makes The Fountains phenomenal and contributes to the enriched mind, body, and spirit of our residents — creating a senior living experience that is a cut above the rest.
We offer a wide selection of daily programs that will engage your mind, body, and spirit. From wine tasting to live entertainment and yoga classes, your days will be filled with fun and enrichment.
Our Monthly Wellness Calendar | Our Monthly Wellness Newsletter
Upcoming Events
A Closer Look at Eye Health & Living with Visual Impairment: Friday, July 19 | 11:00 am
Join us at the Fountains of Melbourne for an informative talk with Dr. Vashnaiv of The Eye Institute. Dr. Vashnaiv will discuss the most common types of eye diseases and treatments for the leading types of visual impairment. If you're one of the many people affected by visual impairment, you will also gain valuable insight on ways to navigate through daily life without letting this setback prevent you from living your life to the fullest.
This educational program is sponsored by the Melbourne Space Coast Chapter and National Federation of the Blind, Florida. We hope you can join us and get your questions answered while discovering ways to live your life to the fullest with visual impairment.

Dr. Hetal Vaishnav is a fellowship trained Vitreo-Retinal Surgeon, specializing in treating complex diseases of the eye. He is a Diplomate and Board Certified by the American Board of Ophthalmology and a Fellow of the American Academy of Ophthalmology. Dr. Vaishnav is an adjunct lecturer and instructor at both the University of Florida and the Florida Institute of Technology. In addition to teaching, Dr. Vaishnav is a clinical scientist with research experiences and collaborations at world renowned institutions such as the Centers for Disease Control (CDC), the National Center 
for Infectious Diseases (NCID), the University of Florida and the Diabetes Clinical Research Center (DRCR.net).
Call 321.473.9474 to RSVP by July 15