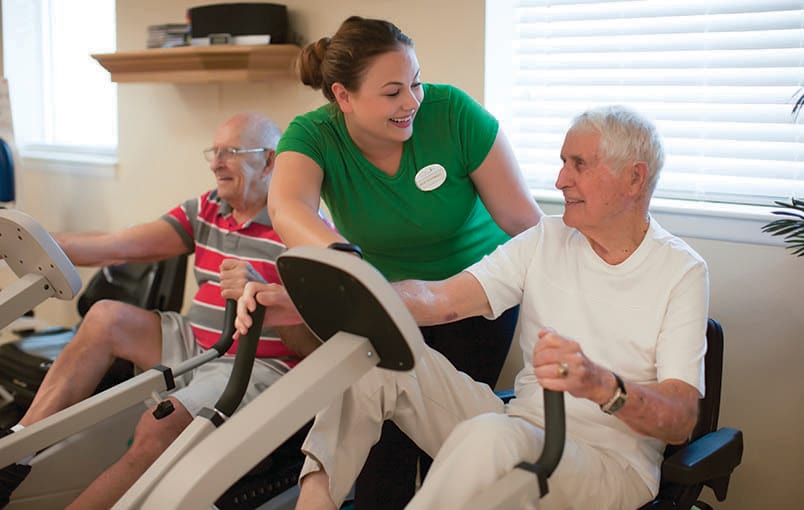 COMMUNITY NEWS & EVENTS
The Fountains of Melbourne Wellness Calendar
We are proud to offer our award-winning "The Art of Living Well℠" program — a holistic approach to mind, body, and spirit whole-person health.
We offer the latest advancements in wellness — from our Posit Science Brain Gym for mental fitness to our state-of-the-art Fitness Center with certified senior trainers. We have a gorgeous outdoor heated swimming pool for year-round enjoyment. You can also nourish your mind by participating in our continuing education classes.
This wellness culture is what makes The Fountains phenomenal and contributes to the enriched mind, body, and spirit of our residents — creating a senior living experience that is a cut above the rest.
We offer a wide selection of daily programs that will engage your mind, body, and spirit. From wine tasting to live entertainment and yoga classes, your days will be filled with fun and enrichment.
Our Monthly Wellness Calendar | Our Monthly Wellness Newsletter
Upcoming Events
Money & Memory Lunch and Learn: Thursday, November 8 | 11:30 am - 1:00 pm
The Fountains of Melbourne is proud to present: "Money and Memory, a Lunch and Learn," event in partnership with Attorney Amy B. Van Fossen, P.A. and Edward Jones Financial Advisor, Elizabeth Oros. This informative lunch and learn will cover how to make your money last, including budgeting expenses and long-term care as well as estate planning and veterans benefits. Enjoy a delicious lunch and refreshments while you gain valuable information for retirement planning We hope to see you here.
Please call 321.473.9474 to RSVP by November 5
All Day Coffee Shop:  Saturday, November 17 | 11:00 am - 3:00 pm
Swing by for a coffee or a treat at The Fountains of Melbourne All Day Coffee Shop. We will be transforming our Commons area to feel like a coffee shop of the 90's. A variety of coffees and specialty pastries will be served. Each hour will feature a different form of entertainment, acoustical guitar, a professional story teller, pianist, as well as a game hour. We encourage you to bring a friend, stop in and stay awhile at The Fountains All Day Coffee Shop.
Please call 321.473.9474 to RSVP by November 14