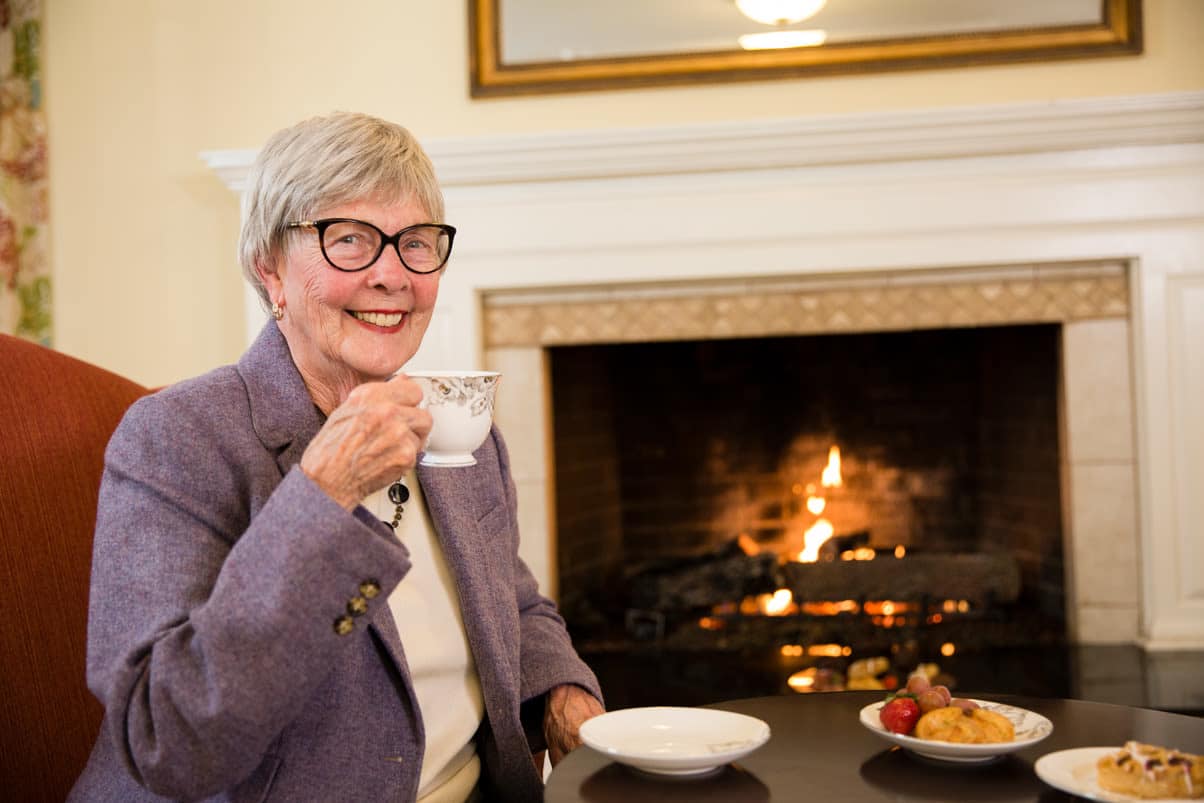 COMMUNITY NEWS & EVENTS
Wellness Calendar
At Abbotswood at Irving Park, health and wellness are not only our philosophy, they represent a way of life. This wellness culture is what makes our community exceptional and contributes to the happiness of residents.
Want to see what a typical day at Abbotswood looks like? It can include everything from Tai Chi to piano — from art classes to BINGO — from Wii bowling to a book club. At our senior living community, we strive to offer our residents programs that meet every individual's interests — and even pique new interests. Residents also find that they have a renewed sense of strength and energy after participating in our award-winning wellness program, which accommodates all fitness levels. Although we offer limitless programs to do on campus, we also like to give residents ways to get to know Greensboro better, so we routinely hold shopping trips and other outings in the community.
Your opportunities are only limited by how you choose to spend your time. As you participate in our award-winning programs, you know your choices are designed to help you maintain an active lifestyle doing things you love, doing activities that challenge you, learning new things, staying physically active, enjoying the company of friends and family, pushing beyond your boundaries, going out on the town, discovering new passions, and more.
Upcoming Events
Navigating the Dementia Journey
Living with dementia is undeniably difficult and poses numerous challenges to daily living. Abbotswood at Irving Park presents our series, Navigating the Dementia Journey to provide a better understanding of this complex disease and the behaviors for both caregivers and family members. These seminars are being led by Eileen McGuinness-Vaillancourt, Dementia Educator and Trainer.
Virtual Dementia Tour: Thursday, October 11 | Drop in anytime between 12:30 pm and 6:00 pm
This 20 minute stimulation can help an individual experience what it feels like to have dementia.  For caregivers and family this experience will allow one to gain empathy and a better understanding of what the individual experiences from day-to-day.
Understanding Dementia:  Saturday, October 13 | 10:00 am - 11:00 am
Meet dementia, there are many kinds.  You will learn about the most prevalent types and their characteristics.
Understanding Dementia Related Behavior  Saturday, November 10 | 10:00 am - 11:00 am
People with dementia communicate through behavior.  Learn the unspoken language of typical dementia behaviors.
Enhancing Communication with a Person with Dementia: Saturday, December 8 | 10:00 am - 11:00 am
Dementia causes an array of communication challenges.  Learn what challenges exist and learn to identify other ways to effectively communicate.
Please RSVP to one or all of these great events by calling 336.298.8601
Art Gallery Exhibit Opening "Scratching the Surface":  Saturday, October 27 | 3:00 pm - 5:00 pm | 1st Floor D lobby
Unlike 'typical' museums, this exhibit will not have velvet rope dividers, crowded lines or a "Do Not Touch" entry sign... Instead, the viewer will be encouraged to touch and feel all the artwork nooks and crannies and ponder the question, "What if everything in the world was smooth?" Enjoy wine and light refreshments while enjoying beautiful art from Red Door Studio featuring traditional artist Nancy Bulluck and students. Inspired by her anthropology and sociology degrees, Nancy turned to painting as a way to investigate relationships - between light, texture, form, and subject. She works in watercolors, oils, acrylics, encaustics and mixed media. A dedicated painter with over thirty years of growing experience, her work is held in both public and private collections. We hope to see you there!
To RSVP, please call 336.298.8601 by October 22