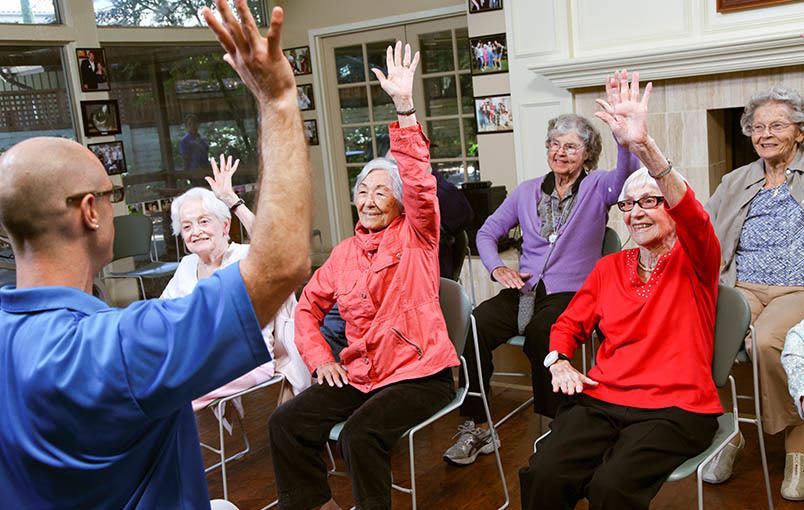 COMMUNITY NEWS & EVENTS
Wellness Calendar
We believe in creating a nurturing environment for life balance and fulfillment. This is why we offer a wide selection of daily programs that will engage your mind, body, spirit.
Whether you're musically inclined or have a vast knowledge of history, you can find something that fits your interests at Heritage Greens. We offer plenty of enrichment classes, trips and community activities. We also have a multi-pronged wellness program that addresses your physical, spiritual and emotional health.
Wine tasting, live music, craft fairs, and more — you never know what events you might find each month at Heritage Greens. From game night to live entertainment and yoga classes, finding something fun and enriching to do won't be a problem in the slightest. Deciding what your favorite activity is might be a little tougher however. At Heritage Greens you will have the opportunity to create a healthy, balanced lifestyle with a sense of security for the future.
See our Wellness Calendar | See our Wellness Newsletter
Our Arboretum Newsletter | Our VerraSpring Newsletter
Upcoming Events
Verra Spring Pie Pick Up:  Thursday, November 15 | 4:00 pm - 6:00 pm
You can't do holidays without pie... This year, you can pre-order pies from VerraSpring at Heritage Greens to share with your family! Pies will be ready for pick up on the 15th and can be kept in the fridge until you are ready to heat and serve on Thanksgiving. While you are here, enjoy some warm beverages and see all of the upgrades that we have done to our beautiful community. Please RSVP with your choice of apple, pecan or sweet potato pie.
To RSVP, please call 336.560.7067 by November 8
Verra Spring Open House & "Sweater Weather" Musical Play:  Friday, December 7 
We invite you to join us for the Open House of our beautiful Assisted Living Community, VerraSpring, followed by the exciting holiday-themed musical play, "Sweater Weather" starting at 6:30pm. We hope to see you!
VerraSpring Open House:  4:30 pm - 6:00 pm

"Sweater Weather" Musical Play: 6:30 pm
"Sweater Weather": An original musical produced by Spring Theatre!​
Brrr… Feel that chill in the air? That breezy nip at your ears? Smell the promise of midnight snowfall teasing your nostrils? That can only mean one thing: Sweater Weather is here! Don our favorite holiday sweater and join Spring Theatre as we peek inside the Sullivan Home on Christmas Eve, where we find the Sullivan children reminiscing about favorite memories past  and holiday wishes to come. With a charming collection of heartwarming stories, familiar holiday tunes, and cheerful laughs that will turn your belly to a bowl full of jelly, Sweater Weather will wiggle its way into your hearts as it explores the question, "What exactly is it that makes a family a family?" We hope to see you!
To RSVP, please call 336.560.7067 by November 30