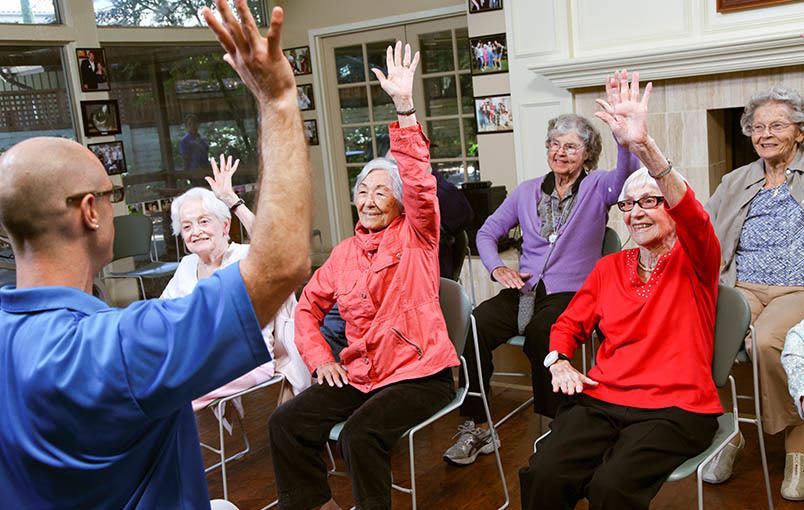 COMMUNITY NEWS & EVENTS
Wellness Calendar
We believe in creating a nurturing environment for life balance and fulfillment. This is why we offer a wide selection of daily programs that will engage your mind, body, spirit.
Whether you're musically inclined or have a vast knowledge of history, you can find something that fits your interests at Heritage Greens. We offer plenty of enrichment classes, trips and community activities. We also have a multi-pronged wellness program that addresses your physical, spiritual and emotional health.
Wine tasting, live music, craft fairs, and more — you never know what events you might find each month at Heritage Greens. From game night to live entertainment and yoga classes, finding something fun and enriching to do won't be a problem in the slightest. Deciding what your favorite activity is might be a little tougher however. At Heritage Greens you will have the opportunity to create a healthy, balanced lifestyle with a sense of security for the future.
See our Wellness Calendar | See our Wellness Newsletter
Our Arboretum Newsletter | Our VerraSpring Newsletter
Upcoming Events
National Assisted Living Week®:  Sunday, September 10 - Saturday, September 16, 2017
This year's National Assisted Living Week® theme is "Family is Forever."  At Heritage Greens, we are one big family. Just spend a little time with us and you'll see first-hand how our associates and residents are like family. From housekeeping to direct caregivers, our associates get to know the residents intimately, and so inevitably, special bonds form. Give us a call to see what activities we have planned to thank our associates and volunteers, but especially our residents for entrusting in us and becoming part of our family.
For more information, please call 336.560.7067.
Active Aging Week: Sunday, September 24 - Saturday, September 30
Heritage Greens will be holding special event(s) for our residents and their families during the last week of September as part of Active Aging Week®.  This is an annual health promotion event for older adults organized by International Council on Active Aging®. The goal is to provide the means to experience activities and exercise in a safe, friendly and fun atmosphere. This year we invite you to participate and ignite your passion!
Please call 336.560.7067 to find out what activities we have planned this month!
Third Annual Barktoberfest:  Saturday, October 14, 2017 | 11:30 am
Heritage Greens is a pet-friendly community with many pets that enjoy calling it their 'home.' We embrace our love of pets, by hosting our 3rd annual Barktoberfest, and we invite your family, friends, and furry friends for a fun-filled afternoon enjoying delicious barbecue, local brews, and live music, benefiting The Biscuit Foundation. A $10 donation is requested with all proceeds supporting this wonderful organization. We hope to see you and your four-legged friends!
To RSVP, please call 336.560.7067 by September 29.