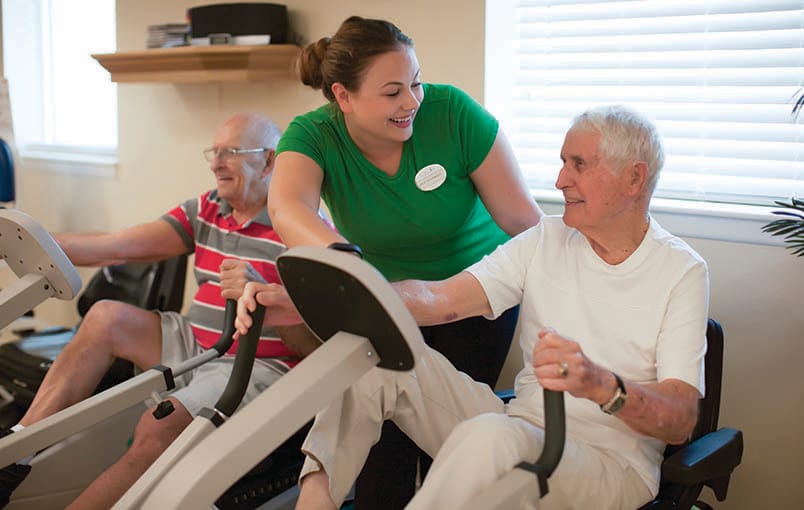 COMMUNITY NEWS & EVENTS
Magnolia Glen Wellness Calendar
You can start your morning exercising in the heated pool, attending a balance class, or taking our Magnolia Glen transportation to a nearby shopping destination. Your opportunities are only limited by how you choose to spend your time. As you participate in our award-winning programs, you know your choices are designed to help you maintain an active lifestyle doing things you love, doing activities that challenge you, learning new things, staying physically active, enjoying the company of friends and family, pushing beyond your boundaries, going out on the town, discovering new passions, and more.
Would you like to visit us for an event? View our map and directions to Magnolia Glen Raleigh, NC.
Events
National Assisted Living Week®: Sunday, September 8 - Saturday, September 14
We celebrate the countless ways in which Assisted Living caregivers nurture the whole resident and how your small, everyday interactions with residents can deliver a high quality, person-centered approach to care. We rejoice with residents who continue to seize the day and realize their dreams.
Call 919.651.3803 or visit the front desk for a schedule of upcoming events.
Fall Open House: Friday, September 27 & Saturday, September 28 | 1:00 pm - 4:00 pm
The seasons are changing, and so has Magnolia Glen! Join us at our Open House and see the exciting renovations and upgrades to our community's cottages and apartment homes including: granite countertops, backsplash tile, stainless steel appliances, brushed nickel finishes, new flooring and washer/dryer options. Enjoy autumn inspired appetizers and beverages while you experience our thriving community, making new friends in the company of our warm and friendly residents and associates. Senior Move Manager Beth Wenhart, from Carolina Relocation & Transition Specialists, will be joining us to help answer any questions you may have about downsizing and how to make your move stress-free.  Magnolia Glen is one of Raleigh's most reputable senior living communities located less than one mile from Crabtree Valley Mall, close to familiar shopping and restaurants. The picturesque setting provides ample opportunity for leisurely strolls along walking paths that lead to Brookhaven Nature Park. The campus, with its Arts and Crafts architecture, is beautiful while exuding an ambiance of warmth and sophistication. Indoors you'll find stylish interiors, welcoming residents and associates who create a close-knit community of caring individuals who enjoy being served and serving others. All who attend will be entered into our raffle for a chance to win great prizes! We look forward to seeing you! 
To RSVP, plesae call 919.651.3803.
Active Aging Week: Tuesday, October 1 - Monday, October 7
Join us as we celebrate all parts of your health - physical, emotional and social, too!  We will be hosting classes and events throughout the week that focus on staying active. Check out our calendar and newsletter above to see how you can participate in these activities or call us at 919.651.3803 for more information.