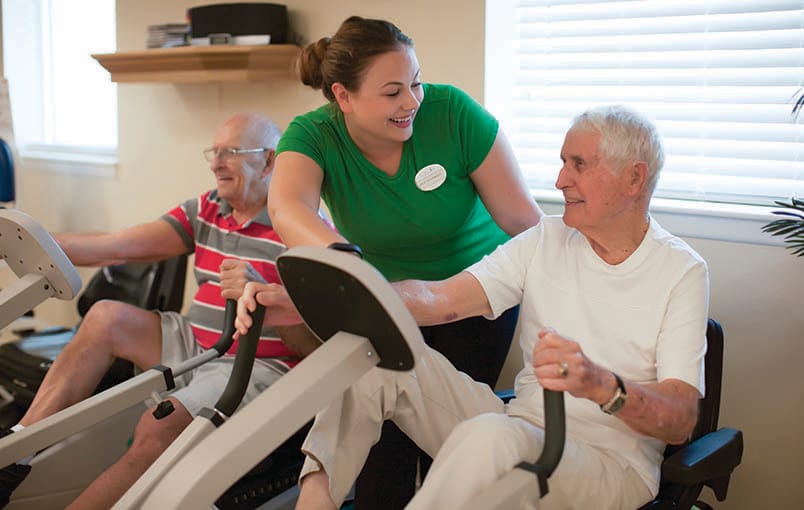 COMMUNITY NEWS & EVENTS
Magnolia Glen Wellness Calendar
You can start your morning exercising in the heated pool, attending a balance class, or taking our Magnolia Glen transportation to a nearby shopping destination. Your opportunities are only limited by how you choose to spend your time. As you participate in our award-winning programs, you know your choices are designed to help you maintain an active lifestyle doing things you love, doing activities that challenge you, learning new things, staying physically active, enjoying the company of friends and family, pushing beyond your boundaries, going out on the town, discovering new passions, and more.
Would you like to visit us for an event? View our map and directions to Magnolia Glen Raleigh, NC.
Upcoming Events
2018 National Assisted Living Week® "Capture the Moment" | Sunday, September 9 - Saturday, September 15
This year's theme is "Capture the Moment".  We are hosting events this week that push back against the perception that older adults in assisted living no longer have a purpose or are irrelevant. At Magnolia Glen, we strive to promote our resident's self-worth by celebrating their individuality and offering life-enriching social activities. Give us a call at 919.651.3803 to see how and when you can join us in the celebration!
Open House - Magnolia Glen has a New Look: Friday, September 21 and Saturday, September 22 | 1:00 pm - 4:00 pm
Get a first-hand look at our newly-renovated apartments, complete with stainless steel appliances, gorgeous granite and handsome backsplash tile. Experience our thriving community, including our private cottages, independent and assisted living apartment homes. Join us for a tour of our beautiful campus, and enjoy the warmth and hospitality of our exceptional staff. Refreshments and delicious hors d'oeuvres will be served while you experience Magnolia Glen like you've never seen before! No need to RSVP, we'll see you here!
Moving Seminar: Wednesday, September 26 | 5:30 pm - 7:00 pm
Making the move to a senior community doesn't have to be stressful. In fact, it can be an exciting and enjoyable experience to settle into a maintenance-free lifestyle, while meeting new friends and engaging in new activities. We'll have a realtor and a senior move manager on hand to answer your questions and help you plan. Learn from the experts just how simple and easy it can be. A light dinner will be served.
To RSVP, please call 919.651.3803 by September 24.
Taste of Magnolia Glen: Thursday, October 4 | 11;00 am - 3:00 pm
Come and see why our residents love living at Magnolia Glen! Enjoy a tour of our state-of-the-art kitchen, have a fabulous lunch, and take part in specialized programs designed by our Wellness team. Learn about the many social clubs and experience the activities we offer. While you're here, find out what it's like to be a Magnolia Glen resident for a day. We hope you can join us!
To RSVP, please call 919.651.3803 by October 2.