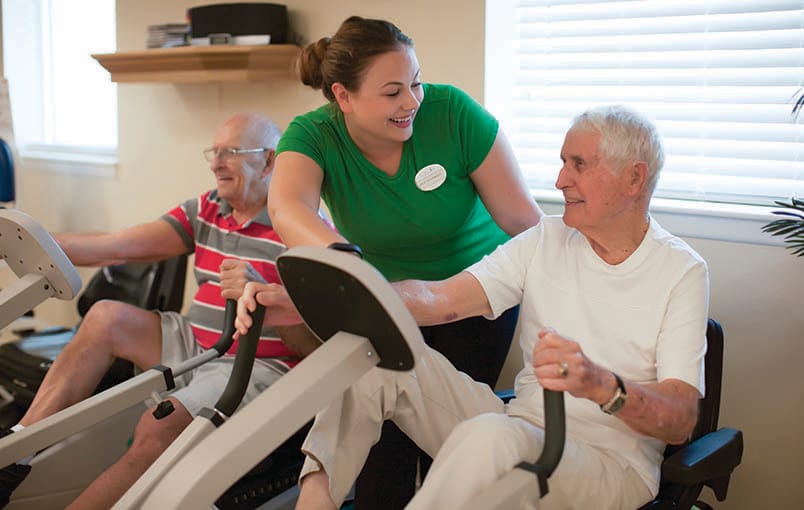 COMMUNITY NEWS & EVENTS
Magnolia Glen Wellness Calendar
You can start your morning exercising in the heated pool, attending a balance class, or taking our Magnolia Glen transportation to a nearby shopping destination. Your opportunities are only limited by how you choose to spend your time. As you participate in our award-winning programs, you know your choices are designed to help you maintain an active lifestyle doing things you love, doing activities that challenge you, learning new things, staying physically active, enjoying the company of friends and family, pushing beyond your boundaries, going out on the town, discovering new passions, and more.
Would you like to visit us for an event? View our map and directions to Magnolia Glen Raleigh, NC.
Upcoming Events
Active Aging Week: Sunday, September 24 - Saturday, September 30
Magnolia Glen will be holding special event(s) for our residents and their families during the last week of September as part of Active Aging Week®.  This is an annual health promotion event for older adults organized by International Council on Active Aging®. The goal is to provide the means to experience activities and exercise in a safe, friendly and fun atmosphere. This year we invite you to participate and ignite your passion!
Please call 919.651.3803 to find out what activities we have planned this month!
Fall Open House: Friday, October 27 and Saturday, October 28, 1:00 pm - 4:00 pm
Fall is here, and we invite you to stop by Magnolia Glen for our upcoming Open House! Experience our thriving community, tour our private cottages and apartment homes, see the new upgrades throughout the campus and enjoy the warmth and hospitality of our exceptional staff. We will also have senior move manager, Susan Stanhope from Move Elders With Ease available to answer any questions you may have about downsizing and packing up your home. Refreshments and delicious hors d'oeuvres will be served while you experience Magnolia Glen. All who attend will be entered into our raffle for a chance to win some great prizes. We hope you can join us!
To RSVP, please call 919.651.3803.