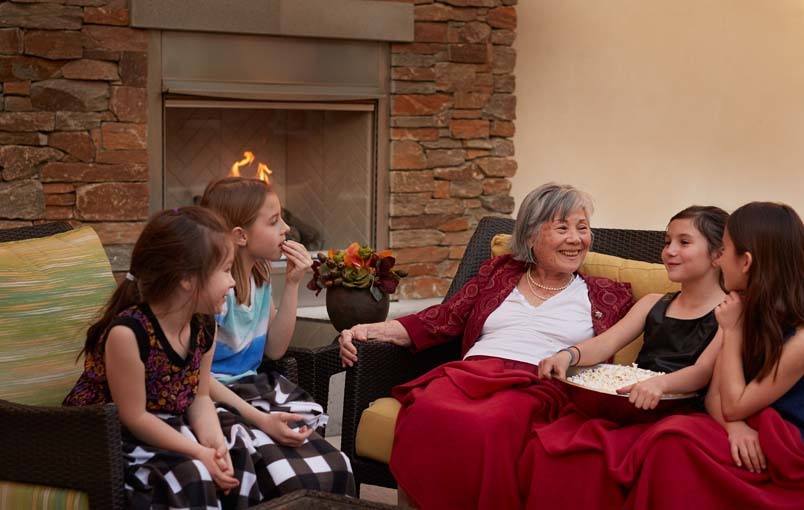 COMMUNITY NEWS & EVENTS
As you participate in our award-winning programs, you know your choices are designed to help you maintain an active lifestyle while doing things you love. At Sagewood at Daybreak, you will have the opportunity to create a healthy, balanced life through learning new things, staying physically active, challenging yourself, and enjoying the company of friends and family.
We offer a varied selection of daily activities to choose from. Be active, inspired, and enlightened through any of our events or sessions. You can also nourish your mind by participating in our lifelong learning classes, educational and cultural excursions, and by volunteering with our community partners. Your opportunities are only limited by how you choose to spend your time.
Whether you like to occupy your free time with friendly competition, a hand of cards or a relaxing day of crafts, you'll find an activity that fits your interests at Sagewood at Daybreak. We offer plenty of enriching lectures, trips into downtown Salt Lake and social hours. Our Art of Living Well program addresses your educational, social, spiritual, physical and vocational needs.
View our Wellness Calendars 
Our Wellness Newsletter | Independent Living Calendar | Assisted Living Calendar | Memory Care Calendar | Transitions at Mountain View Calendar
Upcoming Events
Luau and Tiki Party: Wednesday, August 21 | 4:30 pm - 7:30 pm
Aloha! Join us for an authentic Hawaiian Luau as we celebrate the island culture with delicious food, drinks from our Tiki bar and hula dancers. Dinner will be served at 4:30 pm, followed by an exciting Hawaiian performance at 6:00 pm.  We hope you can join in on the fun!
To RSVP, please call 801.790.0585 by August 16
Vet to Vet Café: Thursday, September 19 | 11:30 am - 1:30 pm
Join us for lunch at Sagewood at Daybreak as we host our much anticipated Vet-to-Vet Café event in honor of our Veterans, by creating a safe environment for them to socialize and share stories with fellow service members. We hope to see you!
To RSVP, please call 801.790.0585 by September 12